Nitto Tire is driven by passion and innovation. We create tires for those who are enthusiastic about their vehicles. We always strive to anticipate and drive consumer trends by supporting emerging markets before they are mainstream, helping them grow and driving the market forward.
Our tire sizing, tread patterns and tire compounds combine modern aesthetics with cutting-edge technology. This technology has helped us create some of the most radical-looking tire designs on the market today. These memorable designs are the result of state-of-the-art development, quality engineering and rigorous testing procedures.
By incorporating computer-modeled designs for road noise reduction and a program that aids in enhancing dynamic contact points while driving, our engineers successfully identify and counteract undesirable tire responses in a variety of driving conditions. In addition, the tested technological advances in polymer tread compounds allow our engineers to deliver truly high-quality tires that provide extended tread life, improved traction on both wet and dry roads and inspire driver satisfaction.
TERRA GRAPPLER G2 – ALL-TERRAIN LIGHT TRUCK TIRE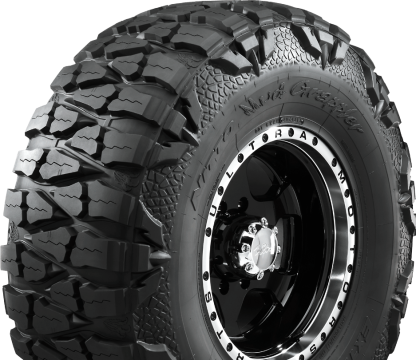 The Terra Grappler G2 is Nitto's next generation all-terrain light truck tire specifically designed to meet your everyday on and off-road adventures. Whether you're commuting to work, towing a trailer or headed up to your favorite mountain trail; the balanced off-road and on-road performance of the Terra Grappler G2 will get you to your destination.
Terra Grappler G2 features a brand new compound new to Nitto's Grappler line of products. Through the introduction of new materials, Nitto was able to maintain the versatile all-terrain compound while increasing the longevity of the treadwear. For the first time Nitto is backing an all-terrain product with a limited treadwear warranty which covers 50,000 miles for LT-metric and floatation sizes, and 65,000 miles for hard metric sizes.
TRAIL GRAPPLER M/T – MUD TERRAIN LIGHT TRUCK TIRE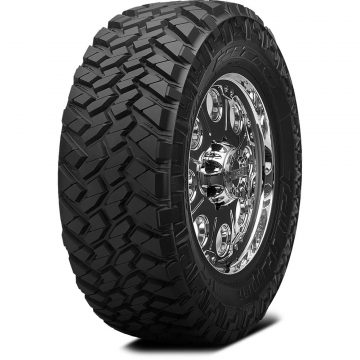 The Trail Grappler® M/T blends some of the performance of the Mud Grappler® with the on-road comfort of the Terra Grappler® to create an off-road tire that is both aggressive and quiet.
For off-road performance, the 3-ply sidewall and thick rubber construction increase puncture resistance. On the tread surface, the blocks provide additional biting edges that command lateral stability and enhance forward traction. For on-road comfort, Nitto's engineers used advanced sound analysis equipment to systematically reduce noise levels commonly associated with off-road tires for a quieter drive.
Each Grappler has two sidewall designs so you can choose how your tires look. On the Trail Grappler one side has stylized lettering with V-shaped buttresses and the other has traditional lettering with flat buttresses. This feature was an engineering feat since even a small weight imbalance can cause unwanted vibrations. Nitto produces exceptionally uniform off-road tires even with different designs.