PowerTrax Pro MX
The same great luxury of the PowerTraxONE, now comes in a powerful textured, matte black polycarbonate finish. Utilizing a remote keyfob, this retractable pickup bed cover opens and closes at the touch of a button. Wireless operation allows it to easily open and close, and an electromagnetic brake allows it to lock in any position along the rail.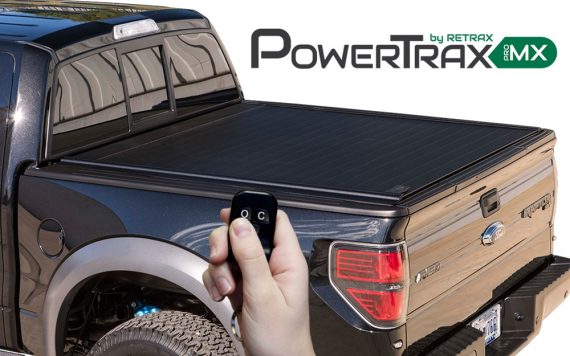 The PowertraxPRO MX features unbeatable aluminum construction that stands up to the toughest conditions.
Once you have the PowertraxPRO MX installed, you'll never have to worry about your bed cover again.
The PowertraxPRO MX locks in any position using an electromagnetic brake – the perfect way to keep the contents of your box safe. Plus, it allows for unlimited flexibility in hauling almost any object.
The retractable cover opens and closes easily with one hand thanks to its sealed-for-life bearings. There's no need for pull straps, Velcro, snaps or springs.
For more information about the PowerTrax Pro MX Tonneau Cover, click here