RetraxPRO
The RetraxPRO represents the powerful, durable, incredible evolution of retractable bed covers. The same great benefits as the RetraxONE but made with industrial strength aluminum, giving them the strength to support distributed loads of more than 500 pounds!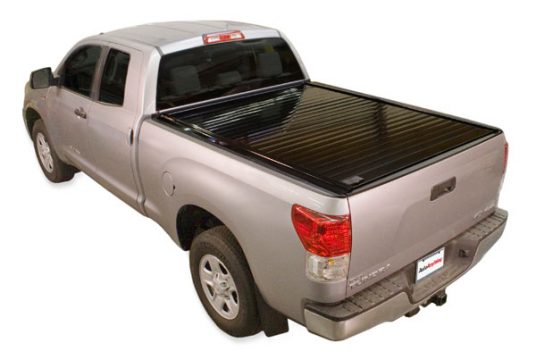 The RetraxPRO features a limited lifetime warranty, meaning you'll never have to worry about your bed cover once you have it installed.
Sealed ball-bearing rollers are mounted onto each section. This allows the retractable cover to open and close easily with one hand, without the need for pull straps, Velcro, snaps or springs. Ball-bearings provide smooth operation, preventing the cover from binding when opening or closing.
Our patented low-profile design is always flush, enhancing the integrity of your truck's style rather than overcoming it. Your cover will seal tight and look good. Unlike soft covers that bulk up when rolled, the flush front cover streamlines the overall appearance and provides a firm, dependable seal.
The RetraxPRO cover can be latched or key locked in any position. This allows for unlimited flexibility in hauling almost any object, and the secure Dual Latch Locking System provides protection unlike any other cover.
RetraxPRO Features & Benefits
Industrial Strength Aluminum ConstructionLimited Lifetime Warranty
Supports distributed loads of up to 500+ lbs
Front Cover Remains Flush With Rolling Cover
Low Profile Design
Opens and Closes Easily With One Hand
Sealed Ball-Bearing Roller Design
No Pull Straps, Velcro, Snaps or Springs
Clamp-on Design
Key Lockable In Any Position
Secures Your Valuable Cargo
Unlimited Hauling Flexibility
UV Protected
No Maintenance
Great For 5th Wheel Towing
Improves Mileage By Up To 10%
For more information about the Retrax Pro Tonneau Cover, click here