Trailer Hitches

CURT manufactures over 1,000 different trailer hitches to meet every possible towing need. It is our goal to always be your best option for towing by providing a complete line of quality products and being first-to-market with towing products for each new vehicle. If we can get you out on the road with a hitch you can enjoy for years to come, doing more of what you love, we have done our job.
CURT trailer hitches begin their journey in the minds our talented engineers. New vehicles are brought into our engineering bays for evaluation and research. Then, sophisticated design software, engineering craftsmanship and quality steel are combined to make design prototypes that perfectly fit the vehicle. Prototypes that meet all design criteria are evaluated in CURT's state-of-the-art testing facility, ensuring that they meet or exceed all industry standards and meet the quality and durability standards that our customers demand. Our tested and validated designs are then ready to move on to production.
With tested and validated designs, we employ state-of-the-art equipment and a skilled workforce, right here in the USA, to produce tow hitches that set the standard for our industry. Once built, our hitches are sent through multiple stages of cleaning, including a shot blast and a wash and preparation system. Then, each hitch is dipped in a liquid Bonderite® coating and finished in our high-gloss or carbide powder coat. The co-curing of the Bonderite® and powder coating provides superior rust, chip and UV protection.
Each CURT trailer hitch undergoes stringent quality testing throughout the production process. The hitch must pass a number of inspection checks before it can pass on to the next stage of manufacturing. This ensures proper functioning with virtually no variability and ultimately results in true customer satisfaction. We are so confident in the quality of our trailer hitches that we back them up with a limited lifetime warranty and a one-year finish warranty.
Hitch images shown below are representative models only, and do not include the various
versions available to you based on intended use or vehicle type.
DFW Camper Corral staff will help you select and install the correct hitch for your vehicle.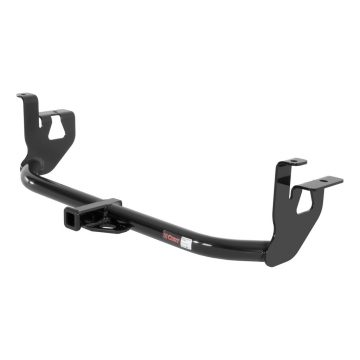 At CURT, our motto has always been 'the only constant is change', but something we will never change is our commitment to staying ahead. CURT is blazing the trail in the towing industry by constantly developing new products and new ways to improve our products. From the conception of a fresh idea in the minds of our engineers to the first time one of our hitches is set up to tow, CURT goes above and beyond in quality, care and innovation.
If there is one thing we do best here at CURT, it is the rear mount trailer hitch. Our rear mount hitches are the pride of our product line, and we invest greatly to ensure that you are receiving a product you can depend on and be proud to own. The secret behind the strength and finesse of CURT trailer hitches is in our custom-fit approach.
In the automotive industry, you cannot expect one size to fit all. You cannot even expect a handful of different hitches to fit all the different types of vehicles out there today. Every vehicle, from the compact car to the minivan to the full-size pickup truck, has a unique body type and frame design. Furthermore, every vehicle type differs across manufacturers, whether you are driving Chevrolet, Ford, Honda or Toyota. To create an exceptional trailer hitch, the hitch needs to be engineered precisely for the vehicle it is intended to be bolted onto. At CURT, we bring real vehicles into our engineering bays. We use sophisticated design software and hands-on interaction to build trailer hitches that are totally customized for each vehicle. The result is a better product that installs faster, works harder and lasts longer. We do not think of our trailer hitches as mere accessories to be slapped on your vehicle. A CURT hitch is an extension of your vehicle and an integrated part of its frame and design.
No matter what you are towing, we want you to be able to Bring It® for years to come, and that is why CURT trailer hitches are put through rigorous testing before being deemed ready to tow. We ensure that each hitch is able to perform at its listed capacity and that it will offer a safe towing solution for you and your family. We also make sure that our hitches are well protected. All of our trailer hitches are mechanically de-scaled and dipped in a liquid Bonderite® coating, covering the entire hitch, inside and out. This provides long-term prevention of rust and corrosion. Our high-gloss or carbide powder coat is then applied, co-curing with the Bonderite, to offer superior rust, chip and UV protection.
From our class 1 and 2 hitches to our Xtra Duty and Commercial Duty, we are proud to say our custom receiver hitch line is manufactured in the USA. This allows us to have direct control over every step in the creation process, resulting in the utmost quality of our products. With each trailer hitch, we confidently include a one-year finish warranty and a limited lifetime construction warranty.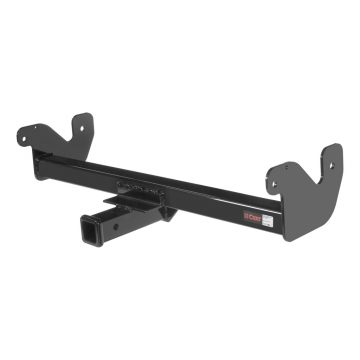 CURT front mount trailer hitches allow you to use the front end of your vehicle for various towing applications. They can be used for mounting a winch, snow plow or other accessories. When space is limited, a front mount hitch is commonly used to hold a cargo carrier, freeing up space inside the vehicle for extra cargo and making the rear mount receiver available to pull a trailer. At the boat ramp, your boat trailer can be hitched up to the front mount receiver, giving you better control over the trailer as you launch. Some of the other accessories that can be used with a front mount hitch are the step pad, license plate holder, spare tire mount and the CURT skid shield.
A front mount hitch bolts onto the underside of the vehicle frame just like a rear mount hitch; only, it is placed in the front of the vehicle, providing a useful receiver tube to accept a 2″ x 2″ shank. CURT front mount hitches come in towing capacities of up to 3,000, 3,500 and 5,000 lbs. and can tow up to 9,000 lbs. for a straight line pull. They are specifically designed to mount on trucks, vans and SUVs. In general, sedans, coupes and other cars do not allow adequate viewing space for safe driving if a front mount accessory were to be attached.
CURT front mount hitches are crafted with robotically welded steel and undergo the same testing, cleaning and finishing processes that our rear mount hitches undergo. They are co-cured with a liquid Bonderite® coating and a powder coating of high-gloss black for rust, chip and UV resistance. At CURT, we do not see our front mount hitches as a backburner item to our rear mount hitches. We back them up with the same one-year finish warranty and limited lifetime warranty to give you peace of mind on and off the road.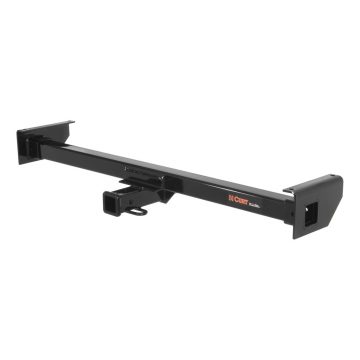 CURT is your go-to source for trailer hitches no matter what you drive. Our custom-fit hitches are the ideal towing solution for your car, truck, van or SUV, complementing your vehicle's design and installing with ease. Though we produce over 1,000 different trailer hitches, our line of custom hitches is always growing.
When a custom hitch is not available for your vehicle, CURT offers the multi-fit hitch. Designed to be the ultimate in versatility, CURT multi-fit hitches fit 11 different domestic and foreign vehicle manufacturers, including Ford, Chevrolet, Dodge, Jeep, Nissan, Toyota and more. The multi-fit hitch is a universally designed alternative to our custom hitches. It provides a more affordable option and flexibility in installation. Very simply, a multi-fit trailer hitch works by using a sliding frame to allow the width of the hitch to be adjusted to the specific frame of your vehicle. In general, multi-fit hitches are used on mid-size and full-size pickup trucks and SUVs, but they are also accommodating to several full-size vans and minivans. Mounting hardware and instructions are included with all CURT multi-fit hitches, and there is typically little or no drilling required during installation. The hitch frame mounts directly onto the frame of your vehicle using a few basic tools.
Each CURT multi-fit hitch starts as a prototype that is evaluated, tested and tweaked to be as universal in application as possible without sacrificing CURT quality. Once the prototype has been perfected, we employ robotic welding and our dedicated team of associates to produce versatile trailer hitches that are worthy to bear the CURT name. Each multi-fit hitch is also thoroughly cleaned and descaled until it is finally ready for our co-curing A-coat and powder coat.
CURT multi-fit hitches are available in two towing capacities. The 1 1/4″ x 1 1/4″ receiver model can hold up to 3,500 lbs. of gross trailer weight, a GTW capacity comparable to our class 2 trailer hitches. This makes the 1 1/4″ x 1 1/4″ model good for towing smaller size trailers such as utility trailers and fishing boat trailers. The 2″ x 2″ multi-fit receiver is capable of towing up to 5,000 lbs. of gross trailer weight and 7,500 lbs. with a weight distribution system attached. This allows the 2″ x 2″ model to tow most single-axle utility trailers, boat trailers and ATV and personal watercraft trailers.
One other option of multi-fit hitches offered by CURT is the 3-piece multi-fit trailer hitch. Instead of having a sliding frame, the 3-piece is made up of a fixed center bar and two brackets bolted on each end, allowing the hitch to mount securely onto a vehicle's frame. Because of its more rigid design, CURT 3-piece multi-fit hitches have a higher towing capacity, ranging from 6,000 lbs. of gross trailer weight to 16,000 lbs. on certain models using a WD hitch. These heavy-duty trailer hitches are reserved for only the largest full-size pickups and come with either a gloss black powder coat finish or a carbide finish for long-lasting corrosion and scratch resistance.
A CURT RV hitch is a trailer hitch that is designed to mount onto the back of a recreational vehicle to add extra cargo space or to allow a car to be flat-towed. These hitches are manufactured using CURT's quality processes of robotic welding, thorough cleaning and precise finishing. Both our RV trailer hitches and RV bumper hitches are coated with a liquid Bonderite® coating followed by a high-gloss black powder coat for lasing resistance against wear and corrosion, and both offer a 2″ x 2″ receiver tube opening.
CURT RV hitches are designed to fit a variety of RV styles. With two types to choose from — an adjustable 3-piece frame-mounted style and a bumper-mounted style — these hitches are a perfect fit for most RVs. The adjustable hitch design offers 5,000 lbs. of gross trailer weight capacity and 500 lbs. of tongue weight. It can also be used with a weight distribution hitch to bring the capacities up to 6,000 lbs. of GTW and 600 lbs. of TW. RV bumper hitches, on the other hand, allow up to 3,500 lbs. of GTW and have a tongue weight capacity of 350 lbs.
CURT RV hitches are excellent for towing a bike rack or cargo carrier behind your RV, increasing your overall cargo space. A CURT RV hitch is also great for towing recreational vehicle trailers to bring those ATVs, personal watercraft, dirt bikes or whatever toys you like to have along for the ride. Having a small car with you on your trip cross-country can be very convenient, especially for making quick runs to the grocery store or gas station. CURT RV hitches allow for the use of a tow dolly or tow bars to pull an extra vehicle dingy-style behind your RV. CURT RV hitches are not just another accessory for your camper; they are a product of smart engineering and quality construction to help you achieve that ultimate RV experience every time you hit the road.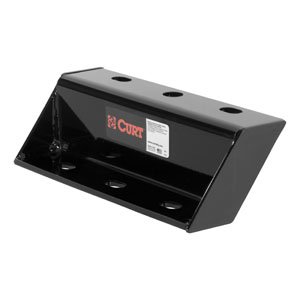 A CURT bumper hitch mounts onto your vehicle's bumper, rather than the frame, and provides a receiver tube for a ball mount, cargo carrier, bike rack or other hitch-mounted accessory. Unlike a bumper mount, which is simply a hole in the vehicle's bumper for installing a trailer ball, a bumper hitch allows for adjustment and flexibility in towing application. CURT receiver-style bumper mount hitches accept a 2" x 2" ball mount shank and can tow up to 5,000 lbs. of gross trailer weight and 500 lbs. of tongue weight. With a weight distribution system installed, a bumper hitch receiver can tow up to 6,000 lbs. This makes the bumper hitch a great choice for hauling many types of trailers, including boat trailers, utility trailers, pop-up camper, livestock trailers and more. It should be noted, however, that the weight carrying capacity is always dependent on the bumper's weight capacity rating.
CURT bumper mount hitches come with a gloss black powder coat finish and provide a simple towing solution. They easily bolt onto the bottom of a step bumper on a pickup truck or SUV and offer a lower hitch point to provide level trailer towing. Each model comes complete with mounting hardware and safety chain hookups.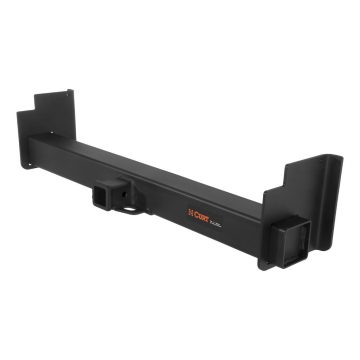 A CURT weld-on trailer hitch is a unique towing option for your vehicle. As the name suggests, a weld-on hitch is designed to be welded directly onto the frame of a vehicle, using thick side plates. While the installation of a weld-on hitch is far different from and somewhat more tedious than other CURT hitches, weld-on hitches offer a high towing capacity at 12,000 or 15,000 lbs., depending on the model. Weld-on hitches come with a square frame for increased strength and have a 2" x 2" receiver tube opening to accept a ball mount shank or other towing accessory. They are strong and virtually universal in design. Weld-on trailer hitches come with a scratch-resistant and rust-resistant black carbide powder coat and require no hardware for installation.
Weld-on hitches are strong and built to last. They are excellent for towing heavy trailers, from large boat trailers and campers to double-axle utility trailers and livestock trailer. Always be sure to check your vehicle's towing capacity rating before hauling any load.