Decked Bed & Van Storage
After over 20 years of battling, band-aiding and otherwise fussing with homemade wooden drawer systems made of plywood, dimension lumber and half the hardware department from True Value, co-founder, Lance Meller, declared, "Wood is dead." Sleeping in the back of his truck as an outdoor sales rep, spooning with skis, snowboard samples, tools and just about everything other than a warm woman, Lance started working with some pals on a solution to his pickup truck bed junk show. A few things fell into place, including a BLT with co-founder, Jake, and after nearly three years of research, design, and engineering work, DECKED was born.
We too have lived with substandard homemade and even purchased storage systems rattling around in the backs of our pickup trucks for years. Finally, we sat down determined to solve the problem we all faced with our truck beds and produce the best in-vehicle storage system anywhere. We think we did, and we are confident you will too. You're one of us, and our mission at DECKED is to make your life better.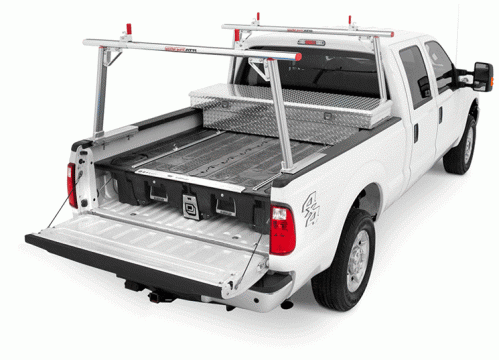 DECKED revolutionizes pickup truck organization with an in-vehicle storage system compatible with Ford F150, Ford F250, RAM 1500, RAM 2500, Chevrolet Sierra, GMC Sierra, Toyota Tundra and Nissan Titan pickup trucks.
It's an ergonomic toolbox which slides out tools, gear, and other items in heavy duty drawers at waist height while still allowing the owner full use of their truck or van bed. DECKED is weatherproof, secure, ergonomic and made in the USA.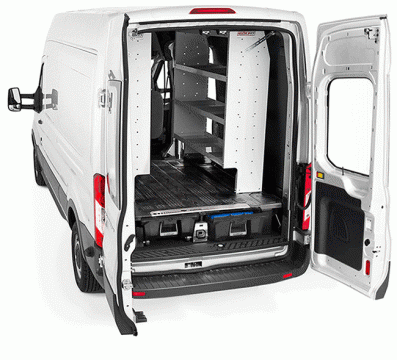 DECKED has done it again; revolutionizing cargo van organization like we did with pickup trucks. Get van cargo storage bins that slide in and out to help you store and organize your tools and/or toys. This leaves plenty of room in your van for big toys like bikes, boards and more. It also leaves room for further uplifting as needed. Our cargo van organizers are compatible with Ford Transit, RAM ProMaster, Chevrolet Savanna, Chevrolet Express, GMC Express, GMC Savanna, Mercedes Sprinter and Nissan NV models. Our ergonomic interior tool boxes slides out tools, gear or anything you want to store out of the way but have quick and easy access to.
What's more, the DECKED van bed organization system is easy to install or remove, is weatherproof, secure, ergonomic, and best of all, it's made in the USA. This is perfect for small businesses like painters, carpenters, plumbers and handyman services who need their cargo van to have secure storage bins that are easy to access. It also works well for the sports person who needs to carry team sports gear, fishing, hunting or any kind of sports gear you can think of.
We introduced the DECKED D-Box about a month ago and we've had a hard time keeping them in stock. Having a handy toolbox or gear box which drops right into your drawers makes the DECKED system even more efficient and ergonomic.
The DECKED D-Box takes ergonomics to the next level. Get maximum cargo storage efficiency and drawer functionality in a durable, weatherproof toolbox.
Two D-boxes fit in each short DECKED System drawer and three D-Boxes fit in each standard drawer.