PowerTraxONE MX
The same great quality of the RetraxPRO now comes in a powerful textured, matte black powder coat finish. RetraxPRO MX bed covers are made with heavy-duty aluminum slats covered in a matte powder coat, giving them the strength to support distributed loads of more than 500 pounds!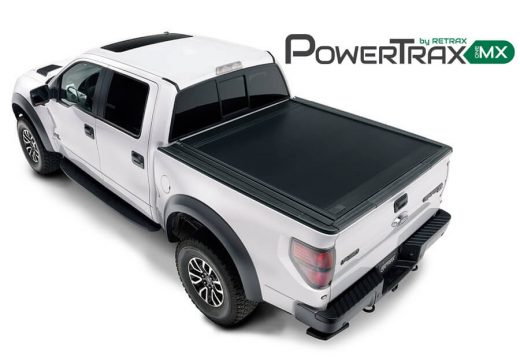 Utilizing a remote keyfob, this retractable pickup bed cover opens and closes at the touch of a button. Wireless operation allows it to easily open and close, and an electromagnetic brake allows it to lock in any position along the rail.
The operation and installation process remains the same as the standard PowertraxONE cover. The PowertraxONE MX also has an integrated cargo light on the canister that is operated by the remote keyfob, and includes an auto shutoff feature. The wiring information is included with the standard installation instructions.
The PowertraxONE MX Retractable Pickup Bed Cover is available for short bed models only.
For more information about the PowerTraxOne MX Tonneau Cover, click here