A.R.E. Z Series Truck Caps
The Z Series truck cap is engineered to provide the best fit and finish possible. The styling, frameless doors and windows, and attention to details make the Z Series the perfect choice for any truck. And the optional keyless entry system is a great final touch.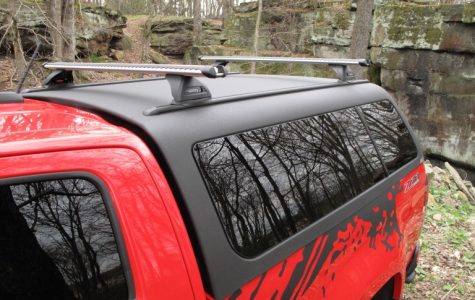 Soft rounded curves and sleek design highlight the Z Series cap. The recessed windows, doors, and L.E.D. brake light blend with the lines on your truck to become a part of the whole look. Side vent windows come equipped with screens, while the ergonomically designed door handle features OEM quality locks.
The OEM latching system on the Z-Series is top of the line all the way. The rotary slam action latches allows you to open and close the door with the same motions as you use to close the truck door.
The Z Series ergonomically designed door handle features a stylish design and an OEM quality lock by Strattec® with a double sided key for easy use. The lock cylinder is the same quality as your pick-up truck's.
The rear door on the Z Series is curved to match the styling of the cap and give your truck an SUV look. The third brake light, which is required by law, is recessed into the fiberglass and curved to match the cap's styling for an smooth, stylish look.
Z Series Truck Cap Features & Options / Standard
Front Picture Window
SV Screen-Vent Side Window
All Glass Rear Door
Fabric Headliner
Z Series Truck Cap Features & Options / Optional
Yakima Roof Rack
Tilt-Down Front Window – For Easy Cleaning Access
Sliding Front Window
Compression Front Boot*
F2 Mitered Half Slider Screened Side Window
Side Access Win-Door **
Vented Win-Door – Outdoorsman Option **
Side Privacy Door **
LED Dome Light (battery)
12-Volt Dome Light
LED Prop Light™ (battery)
Remote Keyless Entry
12-Volt Power Strip
Interior Clothes Rod
Fishing Rod Holders
Note: Not all options are available for all trucks.
A.R.E. maintains the right to add, delete or change suppliers and/or designs of options when necessary to maintain or improve the overall quality without written notice.
* Cannot guarantee watertight seal.
** Win-Door is not a custom fit for the Z-Series.
For more information about the A.R.E. Z Series of Truck Caps, click here