Steps/Nerf Bars/Running Boards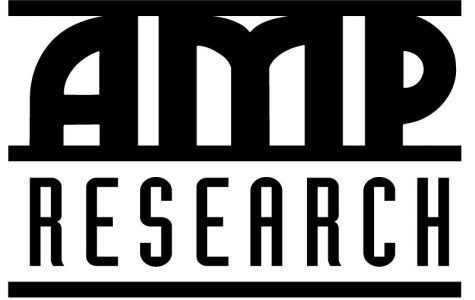 Getting into your truck shouldn't feel like climbing Mount Everest.
That's why AMP Research invented POWERSTEP™, the automatic, electric-powered running board that instantly extends when you open your door, and then hides itself safely out of sight when the doors close for improved ground clearance, aerodynamics and appearance. Its handsome design, all-weather performance and legendary reliability set the industry standard.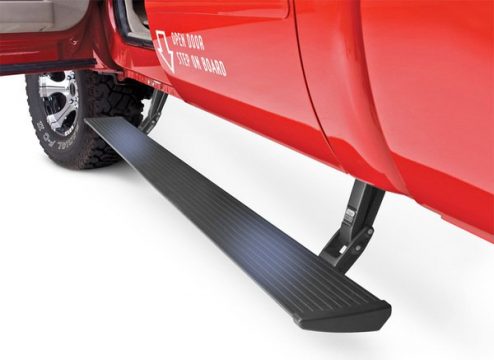 Invented, engineered and built in America, AMP Research PowerStep™ have been tested and proven in long-term, real-world, driving conditions performing flawlessly in snow, ice, dust, mud and dirt. The lightweight, yet rock-solid running board and rugged die-cast linkage components are crafted in the USA of aircraft-quality aluminum, black-anodized and PTFE coated for maximum corrosion protection. Precision, stainless-steel hinge points and bearings ensure trouble-free action. And the heavy-duty electric motor is designed and tested to provide reliable, maintenance-free operation for decades.
Click here for more information about AMP Research products sold by DFW Camper Corral


They change the rules, so we make up our own. They put up road blocks; we find a way around. They tell us there is no path ahead; we blaze a trail. At ARIES, we get revved up about going off the beaten path. From our Pro Series grille guards and modular Jeep bumpers to our StyleGuard™ floor liners and Seat Defenders, ARIES offers freedom of customization and a perfect fit for your vehicle. So whatever terrain you choose to conquer, do it with style and do it with ARIES.
Side bars on your truck or SUV are not just there to make it look pretty. Each ARIES side bar provides a solid place to plant your foot with custom, non-skid step pads and high-strength carbon steel mounting brackets. Each side bar is made vehicle-specific to perfectly accent the contours of your vehicle. We offer our side bars in two finish options, and both are backed by warranty to give you peace of mind.
Click here for more information about ARIES products sold by DFW Camper Corral.


Luverne Truck Equipment, a Division of CURT Mfg., has been designing and manufacturing high-quality truck accessories in the Heartland of  America since 1963. Luverne's product line offers a broad base of upscale aftermarket accessories for pickups, vans, SUVs, and medium and heavy-duty trucks. Luverne and CURT is the brand to trust and the company to rely on. You deserve the best.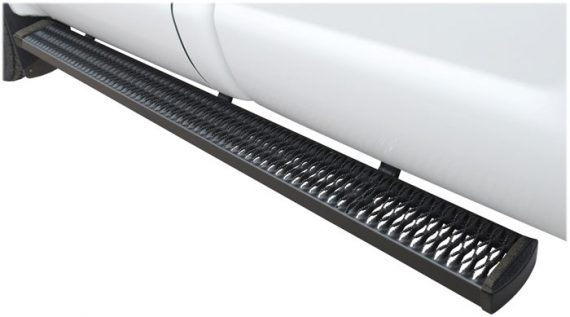 Click here for more information about Luverne products sold by DFW Camper Corral

N-FAB is the industry leader in making quality Nerf-Bars, Pre-Runners and other Off-Road accessories. We design and manufacture the strongest, most durable and best looking Nerf-Bars available in the industry today. At N-FAB are committed to building a heavy duty, high end, high quality tubular parts for all the latest trucks and SUV's dating back to the 80's. When others are using thinner and thinner tube to cut cost we still use heavier gauge .084 wall steel, with an all welded one piece construction. We Zinc coat each part for better corrosion protection. Lastly we finish our standard parts in a thick layer of high gloss powder-coating for a long lasting finish coat. These standards far surpass any of our competition. If you want products that are unique and designed to last longer, look cleaner, function better then N-FAB has what you are looking for!
Click here for more information about N-Fab products sold by DFW Camper Corral.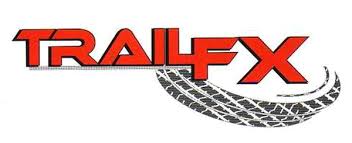 Whether hitting the highway or the off road trails, you need dependable products that are built with quality and durability in mind. TrailFX offers you the quality you expect at a price you can afford. Truck and Jeep® products range from steps, toolboxes, bull bars, grille guards and bed protection to winches, bumpers, plastics, racks, and more
Click here for more information about Trail FX producsts sold by DFW Camper Corral.


Westin™ is a brand of Nerf Step Bars & Running Boards, Grille Guards, Lights & Light Bars, and a variety of truck and SUV lifestyle products. For over 38 years, Westin has provided world-class products to the automotive aftermarket industry. Featuring 7 brands, 11 product categories, and over 100 different products; Westin is the #1 Trusted Source for all your truck, SUV, commercial fleet, towing, Jeep® products, and LED Lighting needs!
Click here for more information about Westin products sold by DFW Camper Corral.